Update – 05/25/2020 – by EB
Earlier today we reported that the Mi 9T received the newest version of Xiaomi's operating system: MIUI 12. However, everything indicates that the Chinese is determined to release the update today for more devices, since now she has also released the novelty for 2 more devices: the Mi 9 and the Mi 9T Pro. Now see what there is to know about them.
Economy and market
21 May
Releases
21 May
It is worth mentioning that the Xiaomi Mi 9T and Mi 9T Pro are sold in China under the names Redmi K20 and K20 Pro. The update for all models is being released gradually and should soon have reached all devices.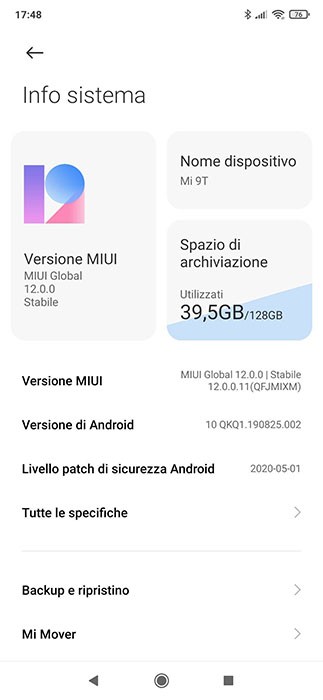 On the other hand, if you don't want to wait for the notification, you can download the files for the update and install it via Recovery, however, you will lose all your personal data when performing the installation, in addition, of course, to cause problems to your phone, making it unusable in case of errors, so we are not responsible for any failure or problem.
Economy and market
20 May
Android
19 May
Update download links:
Finally, it is necessary to clarify that, so far, all users who have tried to download and install via OTA have encountered the following message:
"Error: you are not authorized to use that version."
Therefore, the ideal is to wait for the update normally, if you do not have a Bootloader unlocked or do not know exactly how to install the update using this method.
Original article – 05/25/2020
MIUI 12 was introduced to everyone on April 27 with several new features and shortly afterwards, it announced which global device models will receive the update. In this list one of the first phones is the Mi 9T, a phone launched in February last year with a 6.39-inch screen and Snapdragon 730 processor that just received the new update with MIUI 12.
Economy and market
22 May
Economy and market
21 May
The update brings many improvements in terms of interface for the Xiaomi model that already impresses a lot mainly for its cameras, which have already appeared several times in our highlights of Photos from readers # 309, # 308, # 307. Now let's see what's new in this update that brings some interesting changes to the device's usability:
One of the first changes noticed right from the start is the new notification bar, which now has a different format. When pulling on the upper right side, quick controls appear, on the left side, notifications appear. You can use the old format by changing it in Settings> Notifications.
Other interesting points are that the new interface brings the new animated Super Wallpapers that have even been ported to several other cell phones. Now, if you already have a Mi 9T and have not yet received the notification, check the update manually via the Settings> About phone> System Update menu.
If you are new to MIUI 12, please know that we have already made a guide to the most popular interfaces on the market including MIUI, One UI and EMUI.
Our thanks to reader Matheus Nicolette.
Comment if you have already received MIUI 12 on your phone!
The Xiaomi Mi 9T Pro is not yet available in Brazilian stores. To be notified when he arrives.
The Xiaomi Mi 9T is available from Carrefour for R $ 2,599.
The Redmi K20 is not yet available in Brazilian stores. To be notified when he arrives.
The Redmi K20 Pro is not yet available in Brazilian stores. To be notified when he arrives.
The Xiaomi MI 9 is available from Carrefour for R $ 4,418.
(updated May 18, 2020, 1:20 pm)