This year's last solar eclipse will be visible on December 26, a day after Christmas, creating a "Ring of Fire" in the heavens. The moon will cover the sun, making visible the outlines of our star and thus creating the visual effect.
Partial Eclipse, Details Portal Science alert, can be observed in southern India, Sinagapura, Malaysia, as well as in some regions of Indonesia and some countries of the Arabian Peninsula, such as Saudi Arabia, Qatar, Oman or United Arab Emirates.
The phenomenon will begin to be visible in the skies in Saudi Arabia, ending in the western Pacific after crossing the various regions mentioned above. According to the newspaper India Today, the largest obstruction of the sun will occur in India (89%).
The animated image below shows the areas of the world where you can see the phenomenon. The shadow shows where the partial eclipse will be seen.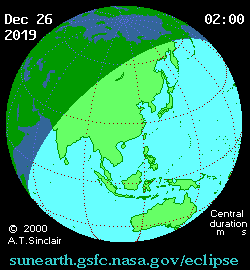 A solar eclipse occurs when the earth, sun and moon align perfectly, causing our natural satellite to cover the light of our star, creating a kind of "shadow" on the earth's surface.
A total solar eclipse occurs when the moon is closest to the earth. Conversely, a partial eclipse occurs when the satellite is farther away, creating a visual effect similar to a "Golden Ring" or a "Ring of Fire."