The positive result of President Jair Bolsonaro in an examination for coronavirus is highlighted in the main international newspapers this Tuesday, 7. The American The New York Times the news on its website headlines the information, stating that Bolsonaro is a "notable skeptic" of the aggressiveness of the new virus.
"Even after several Bolsonaro aides have tested positive in recent months, the president has often avoided precautions such as wearing a mask and practicing social detachment," says the newspaper, which also states that the president "has repeatedly rejected the danger posed by the coronavirus."
– The Guardian / Reproduction
The British The Guardian also highlights the case in its headline and states that Bolsonaro "has repeatedly trivialized the pandemic and neglected social distance, even when Brazil has become the second most affected country after the United States, with more than 65,000 deaths and 1.6 million cases confirmed ".
– CNN / Reproduction
The American television network CNN published the news prominently and stated that Bolsonaro communicated the positive result at a press conference at the Palácio da Alvorada. "The president, who wore a mask, warned people not to approach him," the channel said on its portal.
Continues after advertising

– Le Monde / Reproduction
The French newspaper Le Monde states that Bolsonaro "minimized the disease and participated in several public events without wearing a mask, while criticizing the isolation measures implemented in several states" since the beginning of the pandemic.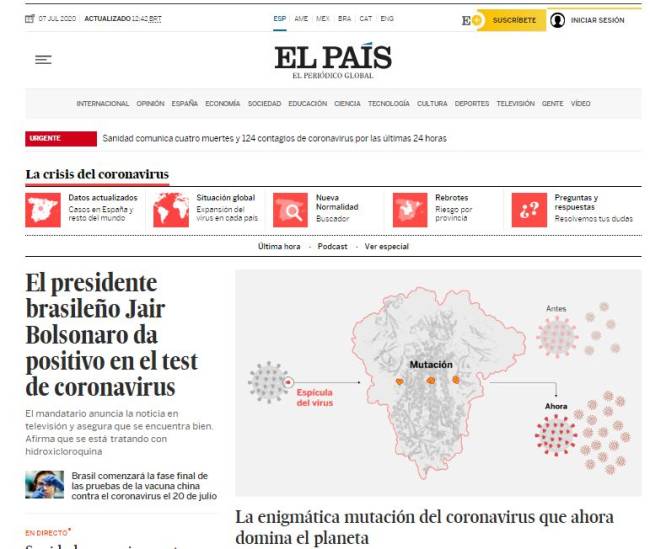 – El País / Reproduction
The Spanish daily El País he also highlighted the disease in his headline. "In announcing the results of his examination, the president repeated his defense of treatment with hydroxychloroquine, a drug whose effectiveness caused controversy among medical authorities in combating the disease," says the report.
– BBC / Reproduction
The news is also highlighted on the British broadcaster BBC and in media from Argentina, Italy and Germany. The newspaper Clarín speaks of "commotion in Brazil" and Italian Corriere della Sera states that Bolsonaro "has always maintained a challenging attitude towards the epidemic", despite being at risk at the age of 65.
– Der Spiegel / Reproduction
The German magazine Der Spiegel cites the criticism suffered by the Brazilian president of the international community for underestimating the seriousness of the pandemic. "It wasn't that long ago that he compared Covid-19 to a 'little flu'," recalls the report.
– Corriere della Sera / Reproduction